---
new testing? - jameson245 - 03-05-2017

(CNN)Authorities in Colorado are going to use new DNA testing technology in one of America's most famous unsolved murder cases.

But don't expect it to lead to an arrest in the 20-year-old JonBenet Ramsey case in the near future.
The Colorado Bureau of investigation is opening a new DNA testing facility in 2017 and will next year use new technology in the JonBenet case -- as well as other cold cases.




Boulder County District Attorney Stan Garnett told CNN's Jean Casarez that he expects the DNA testing results will be "not significant and not a big deal."
Garnett stressed the JonBenet investigation is much more than a DNA case. Any new results will only be significant if they can be matched with other evidence authorities already have.

Read More
As he told CNN affiliate KMGH: "To ever have a prosecutable case, we have to have several different pieces of evidence come together."




Garnett told CNN that his office along with the Boulder Police Department meets periodically with the Colorado Bureau of Investigation as they continue to keep up with the changes in DNA testing.
The district attorney said he isn't sure whether they will use DNA from pieces of evidence or only re-test results they already have.
Boulder police officials said they will only have comments if there is new information to be announced.
JonBenet's body was found in on December 26, 1996, in the basement of the family's home in Boulder, hours after her mother discovered a handwritten, three-page ransom note.
JonBenet was found with a garrote fashioned out of rope embedded deep into her neck. The same rope was around one of her wrists. At the end of the garrote was a broken paintbrush that appeared to be from the art set of her mother Patsy Ramsey.
Her father, John Ramsey, said he removed duct tape from her mouth when he found his 6-year-old girl.
Two years after JonBenet's killing, with the case not close to being solved, Boulder's district attorney convened a grand jury in 1998.
At the conclusion of the proceedings 13 months later, then-Boulder County District Attorney Alex Hunter convened a press conference broadcast live nationwide.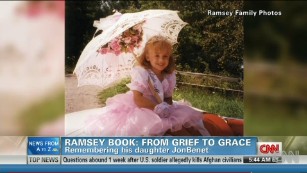 In 2008 there were new forensic findings. Unknown male DNA had been found on the waistband of JonBenet's long johns. Earlier tests had found unknown male DNA on the crotch of her underwear. The two samples matched or "were consistent" with each other, according to testing done by forensic scientist Dr. Angela Williamson.


---
RE: new testing? - jameson245 - 05-24-2017

This is a bit confusing.

The evidence in the panties, on its own, is golden. One 6 year old victim and one male pervert.

The evidence on the longjohns had more DNA than that. There was JonBenet's and enough markers that the pervert may have left his - - but so did someone else.

BORG presented this story as if all the evidence was muddy and confused. It was not.


---